20 things you never knew about Adam Richman AKA An Ode to Man vs. Food...
Mood:
hungry
Now Playing: Muse - Undisclosed Desires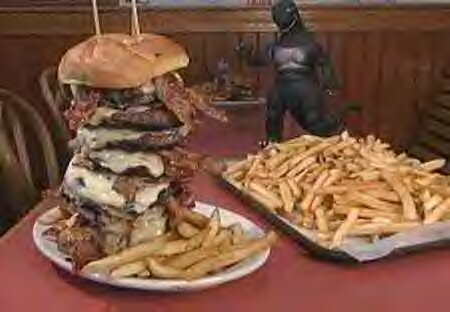 One of my favorite shows is Man vs. Food on the Travel Channel. Who would have ever thought that I would be thoroughly entertained by random food challenges? But what's there not to love about host Adam Richman? Seriously, the man is hilarious! Not only is he funny, he's a freak when it comes to tolerating the pain, burn, sheer volume, etc. of whatever challenge he's facing. So good!
So here, a la Chuck Norris, are 20 things you never knew about Adam Richman, food challenge stud:

1. There is nothing that Adam Richman can't eat, only things he doesn't like.

2. Adam Richman once finished five 12-pound meals in just half an hour. He spent the first 28 minutes making out with the waitress.

3. Adam Richman counted to infinity - thrice. He was counting the number of hot dogs, pies and hamburgers he has consumed at different eating contests.

4. In fine print, on the last page of the Guinness Book of World Records, it notes that all of the eating-related records are held by Adam Richman, and those listed in the book are the closest anyone else has ever gotten.

5. Starbucks drinks come in five sizes: Short, Tall, Grande, Venti and Adam Richman.

6. Adam Richman once challenged Galactus to a eating contest. The loser had to wear a silly-looking hat for the rest of their life.

7. Thor was not tricked by the giants into drinking the sea; rather, he was trying to duplicate one of Adam Richman's feats. He ultimately failed, but nevertheless, Richman commended the Norse god on his "perseverance."

8. Adam Richman's digestion system does not convert food to fat, but to antimatter. Scientists speculate that future interstellar spacecraft will be powered by Adam Richman's stomach.

9. Adam Richman once ate a whole cake before his friends could tell him there was a stripper in it.

10. Adam Richman coined the phrase "I could eat a horse" after eating every last unicorn in existence.

11. Adam Richman uses pure capsaicin as eye drops.

12. When Adam Richman apologized for eating "half of Alaska's wildlife," he was not exaggerating, but downplaying, his feat.

13. When Adam Richman eats too much, he doesn't throw up, he throws down!

14. Adam Richman can have his cake AND eat it too.

15. The term "bottomless pit" was coined by a doctor who once looked at Adam Richman's esophagus during an annual exam.

16. He can have a snack while watching the 2 Girls 1 Cup video.

17. Adam Richman can eat just one Lay's potato chip.

18. They say tough men eat nails for breakfast. Adam Richman does all of his grocery shopping at Home Depot.

19. Adam Richman once ordered a Big Texan meal at Humpy's Great Alaskan Alehouse, and got one.

20. Adam Richman will never get a heart attack. His heart isn't stupid enough to attack him.